AFX (www.AFXinc.com), an industry leader in energy-efficient decorative lighting solutions has released new decorative sconce lines - Axel, Maddox, Kass, Geneva, Lyon and Ellipse. The new LED sconces offer contemporary design styles with the energy efficiency of LED lighting, providing versatility for lighting designers and specifiers. All sconces feature a durable white powder coated finish with a frosted acrylic diffuser. The new LED sconces complement any space and are suitable for residential and commercial applications including Hospitality and Healthcare.
The Axel, Maddox LED sconces have a broad appeal and are sized for wall application or can be used as ceiling mounted lights where size is a constraint. Both produce 800 source lumens with a 3000K (CCT).
The Geneva circular and Lyon square LED sconces are offered in two sizes for wall application or they can be used as ceiling mounted lights. The smaller size produce 800 and 1300 source lumens, while the larger versions produce 1900 and 2300 source lumens with a 3000K (CCT).
The compact Kass LED sconce has an appealing oval shape with an enclosed diffuser design giving it a seamless finish. The Kass produces 700 source lumens with a 3000K (CCT).
The contemporary Ellipse LED sconce features a compelling ellipse- in- ellipse design. It produces 1200 source lumens with a 3000K (CCT).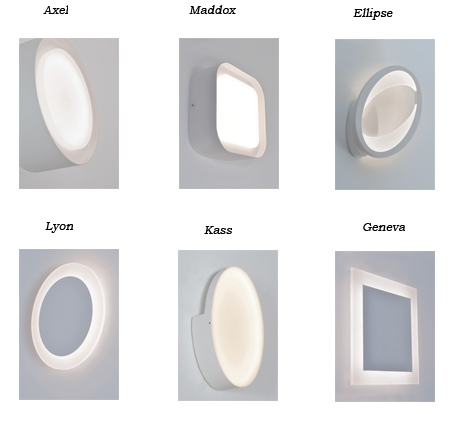 About AFX
Headquartered in Waukegan, Illinois, AFX, Inc. produces a range of decorative and functional energy-efficient lighting fixtures for residential and commercial spaces including Healthcare, Hospitality, Multi- and Single-family applications. Visit www.AFXinc.com to learn more about AFX decorative and utility lighting solutions.