AFX (www.AFXinc.com), an industry leader in energy-efficient decorative lighting solutions recently released new decorative sconce lines - Anton, Noma, Sinclair and Wells. The new LED sconces feature multiple color, size, lamp source and design options providing versatility for lighting designers and specifiers. Designed with architecturally appealing materials such as fabric, wood and metal, the new LED sconces complement any space and are suitable for residential and commercial applications including Hospitality and Healthcare.
The Anton LED sconce features innovative LumaFuse™ technology that fuses fabric and acrylic creating an attractive yet durable diffuser. Offered in three standard colors - Mocha Linen, Louver Resin, and Linen White - the new sconces can also be customized with additional fabric color options providing vast design possibilities. The Anton uses 6W of energy producing 700 lumens with a 3000K CCT. The Anton sconce is also available using compact fluorescent lamping.
The compact Noma LED sconce series is available in a variety of decorative cut faceplate designs - diagonal, slotted or flat. Standard finishes are black, stainless or white. Designers can also choose from custom color painted finishes or custom cut-out faceplates to fit any design. The Noma sconce uses just 5W of energy producing 500 source lumens with a 3000K CCT.
The contemporary Sinclair LED sconce features a rectangular backplate in satin nickel finish. The Sinclair sconce uses just 5W of energy producing 500 source lumens with a 3000K CCT.
The Wells LED Sconce is made from solid maple and is available in three finishes - Chestnut, Espresso and Maple - with four and six bar frame options. The Wells is available with 6W LEDs producing 700 source lumens or 13 LEDs producing 1400 source lumens, with a 3000K CCT. For further design versatility, custom bar configurations and finishes are available. The Wells sconce can also be ordered using compact fluorescent lamping.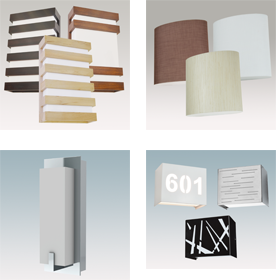 (Top Left: Wells, Top Right: Anton, Bottom Left: Sinclair, Bottom Right: Noma)
About AFX
Headquartered in Waukegan, Illinois, AFX, Inc. produces a range of decorative and functional energy-efficient lighting fixtures for residential and commercial spaces including Healthcare, Hospitality, Multi- and Single-family applications. Visit www.AFXinc.com to learn more about AFX decorative and utility lighting solutions.