AFX (www.AFXinc.com), an industry leader in energy-efficient lighting solutions recently introduced to their product lineup Noble Pro NLLP Series LED task lights. These versatile LED task lights feature an adjustable slide switch allowing for color temperature selection (2700K, 3000K or 4000K), 90 CRI, as well as best-in-class lumens per watt in this category.
With a 50,000 hour LED life, the Noble Pro LED task light is Title 24 Compliant, ENERGY STAR® qualified, linkable, and includes a dimmable driver that can be used with a 2-wire Triac or electronic low voltage (ELV) dimmer control.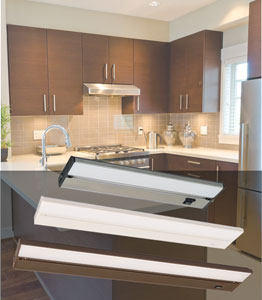 "Our commercial and residential customers demand high lumen output as well as flexibility for task lighting", said Colleen DeStefano, AFX's National Sales Manager. "The Noble Pro Series provides the ability to control color temperature depending upon application requirements. Installers are able to utilize just one fixture regardless of color temperature preference, with no need to carry multiple color temp models."
The low profile LED fixture fits nicely under counters, shelves and display cases and is offered in five lengths to fit most cabinet sizes (9", 14", 22", 32" & 40"). Three color finishes (Brushed Aluminum, Oil-Rubbed Bronze and White) complement most any space.
Other notable features include a removable rear access plate allowing for simple and quick wire connections without having to open the entire fixture. A frosted white diffuser to eliminate pixelation on surfaces. Direct wire for permanent installations where wire is being run to a location or Cord-n-Plug with a 60" power cord which makes it easy to install by mounting the fixture and plugging in to a convenient 120V outlet.

About AFX
Headquartered in Waukegan, Illinois, AFX, Inc. produces a range of decorative and functional energy-efficient lighting fixtures for residential and commercial spaces including Healthcare, Hospitality, Multi- and Single-family applications. Visit www.AFXinc.com to learn more about AFX decorative and utility lighting solutions.