A-Light (www.alights.com), an established best-in-class manufacturer of specification grade interior lighting solutions, today announced the launch of its ABSORB family of sound absorbing luminaires. ABSORB has been designed to reduce sound in open spaces and areas with high ceilings while providing functional illumination.
Aircraft cable mounted, ABSORB is available in two distinct shapes. The ABSORB H has horizontal sound absorbing panels, and the ABSORB V has vertical panels. The felt-like polyester panels are made from at least 40% post-consumer recycled PET bottles and are fully recyclable. With a large surface area, the ABSORB panels decrease reverberation time and have an inherent sound absorption rate of 0.75 NRC.
The linear luminaire is available in three distribution types; Direct/Indirect Symmetric, Direct/Indirect Symmetric Wide and Direct Symmetric. Light output ranges from 335 lm/ft to 460 lm/ft for the standard output version and 670 lm/ft to 921 lm/ft for the high output version, depending upon distribution type. ABSORB uses HE Tech™ optical technology, which combines optical diffusion and a high-performance reflector to deliver refined, high quality light.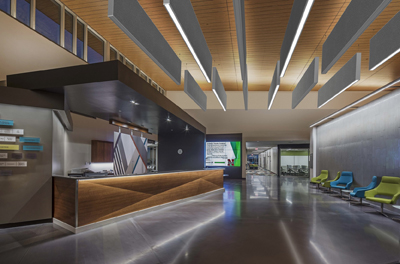 "ABSORB is a human centric design that helps achieve better lighting and acoustic conditions throughout modern shared space environments," said Francois Renaud, director of design for A-Light. "The products combine high performance optics and the most advanced acoustic materials to create a solution for two different problems."
ABSORB is suited to schools, offices, reception areas, lobbies, conference rooms, auditoriums, convention centers and anywhere noise is an issue. It is available in nominal increments of 2ft lengths, in three standard panel colors and three standard finishes as well as other various colors. It is available in various CCT 's and 80+ CRI, and has integral 0-10V dimming down to 1%.
Feature summary:
- Two versions; ABSORB H with horizontal panels and ABSORB V with vertical panels
- Felt-like polyester panels made from at least 40% post-consumer recycled PET bottles. Fully recyclable
- No VOCs and formaldehyde free
- Fire tested according to ASTM E-84 Class A
- Inherent sound absorption rate of 0.75 NRC
- Proprietary HE Tech™ optics
- Three distribution types; Direct/Indirect Symmetric, Direct/Indirect Symmetric Wide and Direct Symmetric.
- Standard Output (335 lm/ft to 460 lm/ft), and High Output (670 lm/ft to 921 lm/ft) versions available
- 3000K, 3500K and 4000K options available, 80+CRI
- Available in nominal increments of 2ft lengths
- Aircraft cable mounting
- Integral 0-10V dimming to 1% (additional options for Lutron, DMX and DALI)
- Integral IOTA slim 12W emergency battery pack for egress compliance
- Occupancy sensor, photocell / daylight sensor, and occupancy & daylight sensor options available
- Sound absorbing panels available in three standard colors; charcoal gray, silver gray and royal blue. Other colors are available
- Fixture available in three standard finishes; a-lightanium™, satin white and satin black
- Optional felt end caps
More about ABSORB can be found at https://www.alights.com/.
About A·Light
A-Light combines advanced optical engineering with a deep understanding of architectural lighting to develop products that integrate into any space. A-Light's luminaires have been specified in tens of thousands of projects throughout North America and are known for high performance and a contemporary aesthetic that achieve balance, elegance and finesse. More information about A-Light is available at www.alights.com.
About The Luminaires Group
The Luminaires Group (TLG) is a leader in the specification-grade lighting industry. Through its unique niche brands (a-light, Cyclone, Eureka, Luminaire Led and Luminis), TLG provides a wide range of innovative lighting solutions for both interior and exterior use. Each company within TLG has a deep connection to the market segment it serves - designing, developing and manufacturing some of the industry's most innovative products.
TLG executes a strategy of acquiring companies that bring specific competences to the group and supports them in their continued evolvement. The organization leverages this combined knowledge and expertise to continuously improve process and product design, to deliver the best possible combination of cutting-edge lighting and unsurpassed support. Each brand in the group retains its autonomy and brand identity facilitating an organizational culture that is nimble and able react to its own market needs.
Trusted by architects, landscape architects, interior designers and engineers, TLG products can be found illuminating spaces throughout North America. Specified in commercial, institutional, hospitality and urban environments, TLG's luminaires have been recognized for excellence and innovation by some of the leading authorities in lighting and design. They have received many awards, including several prestigious Red Dot Awards.
Find out more about the Luminaires Group at www.luminairesgroup.com.