A-Light (www.alights.com), an established best-in-class manufacturer of specification grade interior lighting solutions, today announced the launch of its WGD9 Wall Grazer family of luminaires. WGD9 has been designed to highlight wall textures with a narrow beam of light without shadows or hotspots.
Featuring advanced reflector optic technology and a clear acrylic diffuser, WGD9 delivers high performance light evenly to graze the wall consistently with minimal hotspots or dead zones. WGD9's custom engineered precision optics provide and extremely narrow 7° beam that enhances surface textures from ceiling to floor.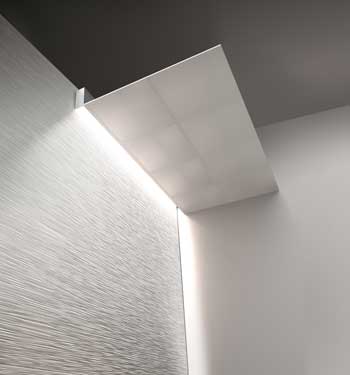 WGD9 is installed 3" into the ceiling, concealing it from view to make the interaction between light, space and wall texture the focal point. The WGD9 works between the ceiling and wall to help to create an open, flowing effect that feels airy, light and futuristic. And because the fixture is sleek and hidden from view, it doesn't compete with other room elements.
"WGD9 helps us to redefine how we visualize space and our surroundings," said Francois Renaud, director of design for A-Light. "It enhances wall textures and brightens environments instantly."
Feature summary:
- Precision engineered optics with 7° beam
- Up to 1091 delivered lumens per ft (high output version)
- Efficacy of 112 lumens per watt
- 3000K, 3500K and 4000K standard CCT offering with 90 CRI
- Universal voltage range: 120V – 227V. Also available in 347V
- Standard 0-10V dimming (down to 1%)
- Lifetime >50,000 hours
- Available in lengths of 1' increments. 90° non-illuminated transitions are available through collaboration with A-Light's Design Assist team
- Emergency circuit or battery option
- Occupancy, photocell, daylight sensor options
- Extended end cap option
- Aluminum housing for durability
More about WGD9 can be found at https://www.alights.com/.
About A·Light
A-Light combines advanced optical engineering with a deep understanding of architectural lighting to develop products that integrate into any space. A-Light's luminaires have been specified in tens of thousands of projects throughout North America and are known for high performance and a contemporary aesthetic that achieve balance, elegance and finesse. More information about A-Light is available at www.alights.com.
About The Luminaires Group
The Luminaires Group (TLG) is a leader in the specification-grade lighting industry. Through its unique niche brands (a-light, Cyclone, Eureka, Luminaire Led and Luminis), TLG provides a wide range of innovative lighting solutions for both interior and exterior use. Each company within TLG has a deep connection to the market segment it serves - designing, developing and manufacturing some of the industry's most innovative products.
TLG executes a strategy of acquiring companies that bring specific competences to the group and supports them in their continued evolvement. The organization leverages this combined knowledge and expertise to continuously improve process and product design, to deliver the best possible combination of cutting-edge lighting and unsurpassed support. Each brand in the group retains its autonomy and brand identity facilitating an organizational culture that is nimble and able react to its own market needs.
Trusted by architects, landscape architects, interior designers and engineers, TLG products can be found illuminating spaces throughout North America. Specified in commercial, institutional, hospitality and urban environments, TLG's luminaires have been recognized for excellence and innovation by some of the leading authorities in lighting and design. They have received many awards, including several prestigious Red Dot Awards.
Find out more about the Luminaires Group at www.luminairesgroup.com.