Acuity Brands, Inc. introduces six additional designs to its line of new generation LED flush mounts from Lithonia Lighting®. The new luminaires are ENERGY STAR® qualified and offer up to 84-percent energy savings over traditional incandescent sources. The LED flush mount luminaires are commercial-rated for 24-hour operation and do not require lamps, simplifying installation and maintenance in residential and light commercial applications.
LED flush mount products are compatible with all standard boxes and come with installation hardware. The fixtures feature a low-profile, transitional design that can mount to ceilings or walls. Incorporating AC-driven LED boards and triac dimmers, the flush mounts offer instant-on technology and dimming down to 10 percent. Expected service life is as many as 50,000 hours.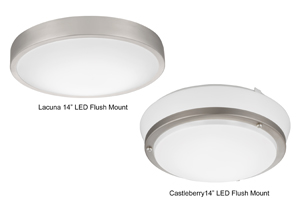 "LED flush mount solutions are a great fit for applications such as multi-family residencies, hotels and assisted living facilities because the fixtures are capable of operating 24/7 and require little maintenance," said Ryan Ramaker, Acuity Brands Lighting, Director, Residential Indoor Products. "The six new decorative fixtures provide the exceptional performance and value Lithonia Lighting customers have come to expect - now with additional design options - making them ideal for spaces such as kitchens, corridors, laundry rooms and common areas."
Acuity Brands continues to expand its residential and light commercial product line with high performing, decorative solutions for a variety of applications. For more information about these new products from Lithonia Lighting, please visit www.lithonia.com or www.acuitybrands.com/residential.
About Acuity Brands
Acuity Brands, Inc. is a North American market leader and one of the world's leading providers of lighting solutions for both indoor and outdoor applications. With fiscal year 2013 net sales of over $2 billion, Acuity Brands employs approximately 6,800 associates and is headquartered in Atlanta, Georgia with operations throughout North America, and in Europe and Asia. The Company's lighting solutions are sold under various brands, including Lithonia Lighting®, Holophane®, Peerless®, Gotham®, Mark Architectural LightingTM, Winona® Lighting, Healthcare Lighting®, Hydrel®, American Electric Lighting®, Carandini®, Antique Street LampsTM, Sunoptics®, Sensor Switch®, Lighting Control & DesignTM, Synergy® Lighting Controls, Pathway Connectivity Solutions®, Dark to Light®, ROAM®, RELOC® Wiring Solutions, Acculamp® and eldoLED®.